The Team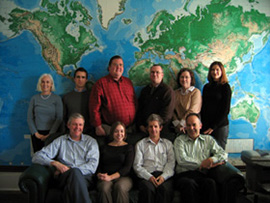 The GlobalAgRisk staff draw on a wide range of experiences and specialized knowledge, assisting with ongoing research and development including product design; publications in refereed journals; and development of conference keynote addresses, workshops, special courses, and presentations. Along with a number of strategic professionals, when required, GlobalAgRisk can call on independent consultants for specialized services. By drawing upon trusted service providers, GlobalAgRisk is able to manage all aspects of project implementation, including back office operations to administer large projects.
Click on the names below to view team member profiles
Jerry Skees, President
Dr. Skees has a unique career that blends experience in academia, government, and the private sector. He is the H.B. Price Professor of Agricultural Policy and Risk in the department of agricultural economics at the University of Kentucky and recipient of several outstanding teaching and research awards. In addition to his tenure as a Professor, Dr. Skees is the President/CEO of GlobalAgRisk and Founder/President of the nascent INGO "Global Centre on Disaster Risk and Poverty". His academic research and service on the U.S. Congressional Commission for the Improvement of the Crop Insurance Program in 1989 led to his role in developing the first area-yield index insurance in the United States in 1992.
 Dr. Skees has established himself as an innovator in weather risk management, and as a result has worked throughout the world with governments, donors, reinsurers, insurers, agribusinesses, banks, and MFIs to enhance rural financial services. Notable achievements have included:
Contributed to the design of the World Bank's first index insurance projects beginning in 1997; 
Design and lead advisor for the globally acclaimed Index-based Livestock Insurance Program (Mongolia) since 1998.
The project has since scaled nationally; 
Design of the first derivative contract for food security (Ethiopia 2006), which served as a starting point for the African Risk Capacity;
Design of a parametric product for floods in the Mekong Delta;
Tangible and on-going contributions to the creation of legal and regulatory enabling environments both at the global level (Basel, IAIS, United Nations) and with country level authorities in Asia, Europe, Latin America and Africa);
The successful design and launch of the world's first regulated insurance product that pays before the disaster, so called forecast insurance (Peru);
Design and mainstreaming an insurance contract that uses sea surface temperature (Peru);
Development of a socially oriented parametric product for earthquakes (Indonesia);
Authoring, coauthoring, and publishing over 100 publications.
Jason Hartell, Agricultural Economist and Insurance Specialist
Mr. Hartell joined GlobalAgRisk in 2005. Mr. Hartell is most recently the project manager for an earthquake index insurance market development and livelihoods protection activity in Indonesia. Current research interests include the economics of adaptive management, impact analysis of index-based insurance interventions, and ex ante financing for humanitarian disaster response.
Prior to joining GlobalAgRisk, Mr. Hartell spent three years as a research associate in the Department of Agricultural and Environmental Economics at the Katholieke Universiteit Leuven, Belgium. Mr. Hartell is a PhD candidate in the Department of Agricultural Economics at the University of Kentucky. He holds an M.S. in agricultural economics from the University of Minnesota and a B.S. in political science from Oregon State University. 

Anne G. Murphy, Research Analyst
Ms. Murphy joined GlobalAgRisk in 2003. She was responsible for office operations, including proposal development, project administration, and educational outreach. Ms. Murphy has worked in Africa, Asia, South America, and most recently, as a consultant on projects in Mongolia and Peru. Ms. Murphy holds an MS in agricultural economics, a BA in anthropology, and is proficient in Spanish.
Our Strategic Professionals
GlobalAgRisk works closely with a number of world's top experts in the field. Click below to view the profiles of some of our collaborators.
Barry J. Barnett
Dr. Barnett is an agricultural policy and risk management specialist, professor in the department of agricultural economics, Mississippi State University, and president of Acacia Economic Consulting, United States.
Richard Carpenter
Mr. Carpenter practiced for six years as a barrister in the United Kingdom (at the English Chancery Bar) before spending nearly ten years working overseas (in the Pacific and the Caribbean) under a number of UK Government funded contracts assisting Governments with the development of the regulation of their financial services industries. Richard's roles included both "hands on" regulation and assistance with the ongoing development of regulatory frameworks and systems, including the drafting of financial services legislation. Mr. Carpenter has developed an international practice specialising in the development and drafting of insurance and other financial services, corporate, insolvency and anti-money laundering legislation and in regulatory and anti-money laundering compliance reviews. Mr. Carpenter has also worked at KPMG's UK Financial Sector Advisory Practice as a director. His primary function was the continued development of KPMG's international regulatory practice. Mr. Carpenter has extensive experience in advising Governments and regulators on the development and drafting of legal and regulatory frameworks for insurance and other financial services that are compliant with international standards, including AML/CFT legal frameworks. More recently, Mr. Carpenter has worked on the legal and regulatory frameworks necessary to support the introduction of index-based insurance and other risk transfer products in countries including Mongolia, Indonesia, Ghana and the Caribbean countries.
Upmanu Lall
Dr. Lall is a weather and climate modeling specialist, professor of environmental engineering at Columbia University and president of consulting firm, Vidya, Inc., United States.
Benjamin Collier
Dr. Collier holds a PhD in Agricultural Economics at the University of Kentucky and presently works as a research fellow at the Wharton Risk Center. His research and field work pertain to addressing the constraints to investment in developing and emerging economies created by natural disaster and climate risk. Dr. Collier has worked with GlobalAgRisk in Peru on building capacity in a variety of financial institutions through direct collaboration regarding natural disaster risk assessments and stress test modeling. As a result of this work, one of the most highly respected microfinance institutions in Latin America is now insuring against extreme El Niño events, allowing it to expand financial access sustainably in vulnerable regions of Peru.
At the Wharton Risk Center, Dr. Collier studies community flood resilience with a specific focus on the strength of local financial markets and small and medium enterprise vulnerability. 
Grant Cavanaugh
Dr. Cavanaugh holds a PhD in Agricultural Economics at the University of Kentucky. His dissertation work involved looking at the prospects for launching exchange-traded markets based on major indexes of regional climate, like El Nino and the Arctic Oscillation.  Grant was part of the team that outfitted a leading microfinance bank in Peru with the world's first insurance policy based on an El Nino index. 
Before coming to Kentucky, Grant worked for the international development consulting firm JE Austin Associates on agribusiness development projects for the World Bank, USAID, and private firms.
Grant holds an M.S. in Economics from the University of Kentucky and a B.S. from the Walsh School of Foreign Service at Georgetown University. He speaks proficient Spanish and Portuguese.
Michael J. McCord
Dr. McCord is a Microinsurance specialist focused on health and life insurance, and bundled financial services, director of the MicroInsurance Centre, United States.
Victor Cárdenas
Mr. Cárdenas has over 10 years of experience in risk management for governments of developing economies, multilateral financial organizations, and private organizations. He was team leader and co-architect of the first and second CAT-bond issued by a government of a developing economy (Mexico). He has developed risk management schemes for natural catastrophes in Latin America and Africa, as well as designed schemes for the risk due to climate change in developing economies. His expertise focuses on financial risk management strategies that combine structured insurance products with capital market instruments such as options, swaps, and insurance-linked securities (ILS). Mr. Cárdenas has provided support to GlobalAgRisk in several multi-sector projects (public and private) in Peru, promoting risk-financing strategies for El Niño risk. Mr. Cárdenas holds an MS in finance from the IE Business School in Spain, and a BA in economics from the Autonomous Technology Institute of Mexico (ITAM).