Peru
In 2006, GlobalAgRisk performed a feasibility assessment and preliminary product development work for an insurance product that would reduce constraints to agricultural lending in the microfinance sector with support from DAI, USAID, and the Peruvian NGO, COPEME. That early work identified the consequences of El Niño as a major constraint to lending in northern Peru. El Niño is a recurring threat in Peru that can bring catastrophic rainfall and flooding along its northern coast. Severe events result in major destruction and disruption to the regional economy. That assessment led to a focus on the most affected region of Piura and the design of an innovative index insurance product that utilizes measures of Pacific sea surface temperatures (SSTs) obtained from NOAA as the basis of payment. SST values are highly predictive and correlated with the extreme El Niño events and their consequences in Piura. The unique aspect of this index is that SSTs can signal a severe El Niño months in advance of its impact on land, enabling an insurance payment to be made several months before the onset of catastrophic weather. The advance payment can then be used for risk mitigation and adaptation strategies to reduce losses and disruptions from the impending disaster. The original product was designed to transfer the portfolio risks of rural lenders and thereby improve access to credit for smallholder farmers. However, since catastrophic flooding results in widespread damages and losses, Extreme El Niño Insurance Product (EENIP) could benefit other affected sectors that are not directly linked to agriculture.
In 2009, GlobalAgRisk received support from the Bill & Melinda Gates Foundation (see below for press release) to conduct educational outreach and advance product development and pilot testing of EENIP for risk aggregators (e.g., financial institutions, business, members of the agricultural value chain) in Piura. UNDP provided additional support to develop applications of EENIP to rural households, farmers associations, and local and regional government agencies in Piura to facilitate adaptation to climate risks and disaster risk management. EENIP for risk aggregators has been approved by the Peruvian regulator and is being offered by the Peruvian insurance company La Positiva, with reinsurance from PartnerRE.
In 2011, GlobalAgRisk began working as a partner to the "Insurance for Climate change Adaptation Project" of GIZ. The objective of this project is to support small businesses, producer organizations, and sub-national governmental institutions on Peru's north coast to have the possibility of insurance coverage against extreme natural hazards by way of new, innovative insurance products.
In 2011 the first policy was sold to an MFI in Piura. Caja Nuestra Gente purchased a policy to cover a small portion of its portfolio exposure. The participation of Caja Nuestra Gente in the risk assessment process and scenario modeling certainly guided their purchase decision. The coverage contributes to their comprehensive approach to managing El Niño risk, which includes underwriting, geographic and economic sector portfolio diversification, capital reserves, and credit lines. Their purchase decision was also partially motivated by their institutional mandate to increase financial inclusion in Peru as the insurance will reduce the risk of expanding microfinance to agricultural and rural communities in northern Peru.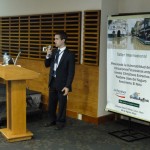 EENIP features three important milestones in index insurance innovation as the 1) first risk aggregator product sold to rural lenders; 2) first forecast insurance product that pays before the disaster; and 3) first contingency or fixed sum insurance contract against consequential losses approved by insurance regulator.
News:
Press Release: First Ever Forecast Insurance offered in Peru
Enhancing Financial Services through Portfolio-Level Disaster Insurance
---
Further Reading:
| Title | Author(s) | Publication Date | |
| --- | --- | --- | --- |
| Press Release 2013: Peru, El Nino Insurance | GlobalAgRisk | 2013 | Download |
| The Potential and Limitations of Index-based Weather Insurance: Mali and Peru | Collier, Skees, and Barnett | 2009 | Download |
| ENSO Business Interruption Index Insurance (EBIII) | Skees | 2009 | Download |
| ENSO Business Interruption Index Insurance (EBIII) for Catastrophic Flooding in Piura, Peru | Skees and Murphy | 2009 | Download |
| Using Index-based Risk Transfer Products to Facilitate Micro Lending in Peru and Vietnam | Skees, Hartell, and Murphy | 2007 | Download |
| El Niño Southern Oscillation–based Index Insurance for Floods: Statistical Risk Analyses and Application to Peru | Khalil, Kwon, Lall, Miranda, and Skees | 2007 | Download |