Posts Tagged 'Peru'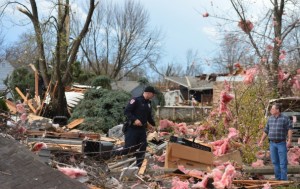 On Sunday, November 17, intense thunderstorms and tornadoes swept throughout the Midwest. Hardest hit was the county of Washington, Ill, that was ravaged by a tornado measuring the second highest on the intensity scale (EF-4). Over 500 homes were destroyed in Washington County alone. Thankfully, however, the fatality rate has been surprisingly low in the face of this level of devastation. Officials attribute low death toll to accurate forecasts that fed into early warning systems.
According to The Washington Post: "When a cluster of violent thunderstorms began marching across the Midwest, forecasters were able to draw a bright line on a map showing where the worst of the weather would go.
Their uncannily accurate predictions — combined with television and radio warnings, text-message alerts and storm sirens — almost certainly saved lives as rare late-season tornadoes dropped out of a dark autumn sky. Although the storms howled through 12 states and flattened entire neighborhoods within a matter of minutes, the number of dead stood at just eight."
Weather predictions are getting more accurate not only in the US, but across the globe. As we noted in the previous post: "The UK Met Office uses more than 10 million weather observations a day, an advanced atmospheric model and a high performance supercomputer to create some of the world's most accurate forecasts. These forecasts can be used to model climate risks in Africa, Asia, South America and other regions where traditional insurance markets have failed to flourish. Climate models, in turn, can feed into the design of potent financial disaster risk management products."
Financial protection is an important piece of the risk management puzzle, because it provides resources for emergency needs and later for rebuilding livelihoods (inventory, assets, physical infrastructure, etc.) and rebounding from the disaster. Thus, a critical aspect of catastrophe cover is timeliness. Index or parametric insurance possess this critical feature. Moreover, this type of catastrophe cover can be designed for entities that serve individuals in need, such as microfinance institutions (for emergency lending) and nongovernmental organizations (for mounting emergency response).
Forecast insurance, a special type of index insurance, embodies perhaps the greatest synergy between catastrophe cover and early warning information. Forecast insurance provides policyholders with resources to begin emergency preparations in advance of the shock (e.g., shoring up infrastructure, cleaning drainage systems, elevating food stocks, etc.) that actually reduce the toll of the disaster. Scaling markets for forecast insurance may also provide a catalyst for enhancing the use of forecast information, which in turn could lead to improved adaptive strategies to climate change. GlobalAgRisk has developed a forecast insurance product against extreme El Niño in Peru, known as EENIP. To read more, please visit the Peru Project Page.
Continue Reading | Comments Off on Combining Weather Forecasts with Catastrophe Cover to Save Lives and Foster Resilience
Benjamin Collier and Jerry Skees recently published an article in the journal 
Natural Hazards
 documenting their work with financial intermediaries in Peru entitled, "Enhancing Financial Services through Portfolio-Level Disaster Insurance." 
Here
 is a link to the publication on SpringerLink and its abstract is below. A prior version of the paper is also available in our library, click 
here
.
Abstract
Financial intermediaries [FIs] in developing and emerging economies are poorly equipped to manage natural disasters. These events create losses for FIs, eroding capital reserves and compromising their ability to lend. Portfolio-level insurance against disasters can improve FI management of these events. We model microfinance intermediaries [MFIs] exposed to severe El Niño in Peru that can now insure against this disaster risk. Our analyses suggest that insurance allows these lenders to manage this risk more efficiently and effectively.
is ebay site down right now
. These risk management improvements can translate into better financial performance, expansion of banking service outreach, lower interest rates, and reduced volatility in access to credit. Based on these analyses, a large MFI in Peru with which we collaborated is now managing its disaster risk using El Niño insurance
Continue Reading | Comments Off on Enhancing Financial Services through Portfolio-Level Disaster Insurance
Continue Reading | Comments Off on Reducing Vulnerability for Financial Institutions